Idealny żagiel do WS Foila - Neil Pryde V8 Flight oczami amatora
9.07.2021 • FlowShop
Neil Pryde V8 Flight oczami amatora
Dzisiejszy test jest podsumowaniem kilkunastu godzin spędzonych z nowym żaglem firmy Neil Pryde. V8 Flight to tegoroczna nowość, w przeciwieństwie do swojego bardziej zaawansowanego i wyczynowego Flight Evo, sprzęt skierowany jest do rekreacyjnego, szybkiego i sprawnego pływania z użyciem foila. W odróżnieniu od innej tegorocznej nowości, żagla Free Foil, V8 Flight nie jest mistrzem manewrowości, jego podstawowe cechy to przede wszystkim szybkość i stabilność. To konstrukcja której zdecydowanie bliżej do żagli race, ale o tym w podsumowaniu testu…
V8 Flight produkowany jest w czterech rozmiarach, od 5 do 8m2 . Do testu użyty został sprzęt w rozmiarze 7,0. Żagiel otaklowany został na maszcie Neil Pryde TPX 100% oraz bomie NP X9. Dodam, że podczas testów pędnik współpracował z deską JP Hydrofoil 135, ale ta konstrukcja będzie bohaterem naszego kolejnego testu.
Dodam, że podczas testu deska współpracowała z aluminiowym skrzydłem RRD WH-Flight.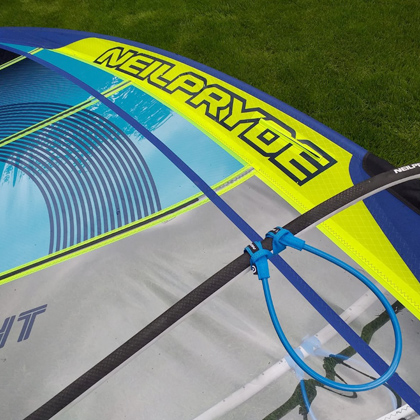 Na lądzie…
Przygotowanie pędnika nie wymaga jakiejś specjalnej wiedzy, wszystkie elementy doskonale współpracują. I mimo że mamy do czynienia z żaglem wyposażonym w sześć listew i dwa rotatory, od początku mamy wrażenie, że to konstrukcja bardzo lekka i poręczna. Oczywiście żagiel możemy otaklować, dostosowując profil do różnych warunków wiatrowych, zastosowanie regulacji "po bomie" na pewno zwiększyłoby i tak duże możliwości ustawień.
Całość sprawia wrażenie trwałości i solidności (to od wielu lat znak firmowy produktów NP), co w dzisiejszych czasach nie jest niestety cechą powszechną.
Na wodzie…
Pierwsza rzecz którą zauważamy po zejściu na wodę, to możliwość przyjęcia bardzo komfortowej pozycji. Przez zupełnie inną budowę (żagiel dłuższy "po maszcie" i zdecydowanie krótszy "po bomie"), środek ożaglowania jest przesunięty do przodu, co powoduje, że pozycja na desce jest dużo bardziej naturalna i jednocześnie komfortowa. Tutaj znakomicie widać różnicę między żaglem foil, a tradycyjną sprzętem freeride adoptowanym do desek foil.
Kolejna sprawa równie istotna, to sprawność całej konstrukcji. Mamy wrażenie współpracy i przewidywalności. I najważniejsze, całość znakomicie zachowuje się w różnych warunkach wiatrowych. Pędnik błyskawicznie reaguje na zmieniające się warunki, świetnie "przepuszcza" nawet gwałtowne szkwały (w tych warunkach widać co znaczy współpraca żagla z masztem TPX). Dla amatora, zwłaszcza na początku przygody ze sprzętem foil, to rzecz niezwykle istotna, gdyż utrzymanie stabilności w powietrzu jest sporym wyzwaniem. Wielkie brawa dla konstruktorów Neil Pryde. Istotną sprawą jest, że w odróżnieniu od typowych konstrukcji race, V8 Flight, nie wymaga aż tak doskonałego przygotowania fizycznego, co może być dodatkowym atutem dla amatora.
I na koniec. Oczywiście to kwestia gustu, ale moim zdaniem nowy Pryde prezentuje się znakomicie, zarówno na lądzie jak i na wodzie. Podsumowując, V8 Flight do doskonała propozycja dla wszystkich, którzy od sprzętu foil oczekują szybkości, sprawności i przewidywalności. To sprzęt dla entuzjastów, którzy zamierzają w bezpieczny sposób podnosić swoje umiejętności, a także dla tych, którzy myślą o startowaniu w amatorskich regatach. Do zobaczenia na wodzie…