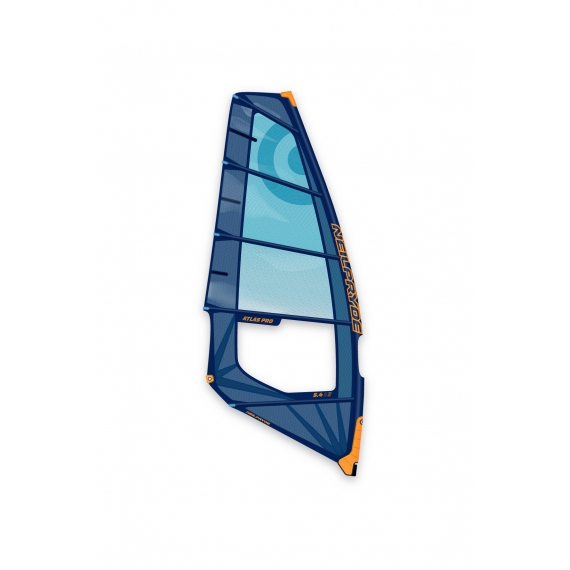 Sail for Windsurf 2022 NP Atlas Pro - 4.6
Reference:
120024-000_2265-4_6
More power than other NP wave sails
Stable and powerful
5-batten construction
Designed for onshore and for heavier riders
---
Size: C2 midnight blue/aqua
Type: 4,6
Description
WINDSURF SAIL NEILPRYDE 2022 NP ATLAS PRO - 4.6
Sizes: 4.2 / 4.6 / 5.0 / 5.4 / 5.8 / 6.2
Back in the range, the Atlas offers a predictable, stable and friendly ride, ideal to use in on-shore wave conditions. Early to plane, the Atlas is up and ready to get into the action with efficient, usable power at all times.
Featuring great upwind ability and acceleration, the Atlas pushes hard, when conditions are less than ideal and its high lift characteristics propel you up high in the air during jumps.
DESIGN DETAILS:
power and acceleration: High draft distribution combined with deep profile generates drive for constant and early planing. 
upwind performance: high leech tension allowing the sail to power up quickly in minimum wind condition, by creating some lift even in the head of the sail. 
control and stability: 5 Battens layout keep the profile stable even on strong winds. The even twist provides optimum response, releases any excessive pressure and reduces backhand overload. 
TECHNOLOGY:
Ultra-Scrim
Powerfuse
Fuse Batten pockets
Clear window
Twin seams
Specification
Size (m2)
Luff (cm)
Boom (cm)
Battens
Mast
Mast length
Vario top
Mast length
460 (RDM) 430/460 (SDM)